Tuesday, July 21, 2009
I have been wanting to post this dosa for a long time and have been putting it off for weeks. When I saw some great cucumber recipes
here
and
here
from my blogger friends, I decided to post my recipe too. So here comes my version of Southekai Dosa. This recipe is very similar to the
Neer Dosa recipe
.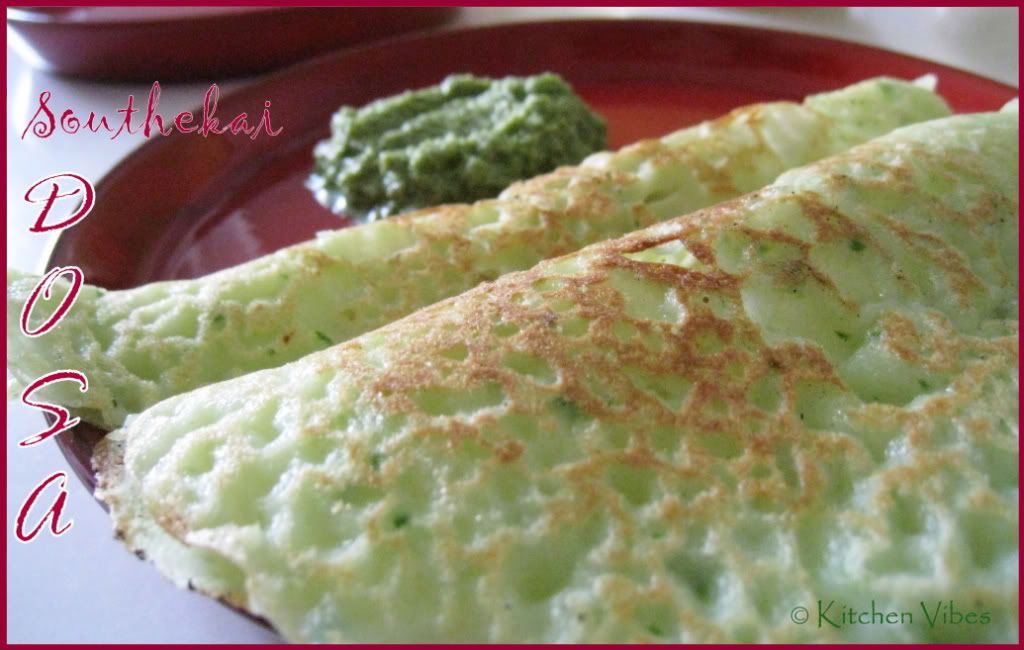 The most (un)fondest memories of childhood for me are from my school lunch breaks. Sounds funny isn't it?
Yes, we students had this wierd game of playing 'Guess what's there in my box?' just before opening and revealing the contents for everyone to see. And guess what the poor me always used to shy away from such games as every one of my friends used to scream out 'Dosa!' when I asked the question. Such was my sorry state thanks to my mom who gave me dosas almost everyday *sob*. When I complained, she used to smile and say, 'But they are all different types of dosas, you see!'.

Mangalorians like their Dosas. Be it the Neer Dosa(Rice crepes), Uppuhuli Dosa(spicy and sour), Kara Dosa (spicy), Soppina Dosa (with greens) or the normal plain Dosa (with lentils and rice), they love to make variations to the batter and somehow manage to come with different dosas for all the days of the week. And this one is just one of the many! The good thing about this Dosa is, there is no need to ferment the batter. Just grind and pour out the dosas, hence saving a lot of time and effort and also healthy because of the cucmber in there. Here I have ground cucumber with the soaked rice. Sometimes I even mix grated cucumber into the ground batter. Both taste equally great!

This goes to RCI-Udupi & Mangalore cuisine hosted by Sia, an event started by Lakshmi and to 'Dosa Corner' event hosted by Padma.

Ingredients:

1 and 1/2 cup white rice
2 tbsp grated coconut (fresh/frozen/dessicated)
1 cup grated cucumber
Salt to taste
Little oil or ghee for frying

Recipe:

Step 1:Wash and soak rice in water overnight or for a minimum of 3-4 hours.
Step 2:Using a mixer grinder/blender, grind soaked rice along with coconut to a fine paste adding enough water.
Towards the end, add the grated cucumber and salt and grind once. Add enough water to get a watery consistency.
Step 3:Heat a girdle/non stick pan/tawa and spread 1/2 tsp oil over it.
Now pour out the dosas same as Neer Dosas. Take a ladle full of batter and pour it over the hot tawa all over. Do not spread using the back of the ladle as with the other dosas, as the batter is watery in this case.
Step 4:Close the lid and let it bake for 2-3 mins. Now remove from the tawa and serve hot with any chutney. (No need to bake on both sides, as it is very thin.)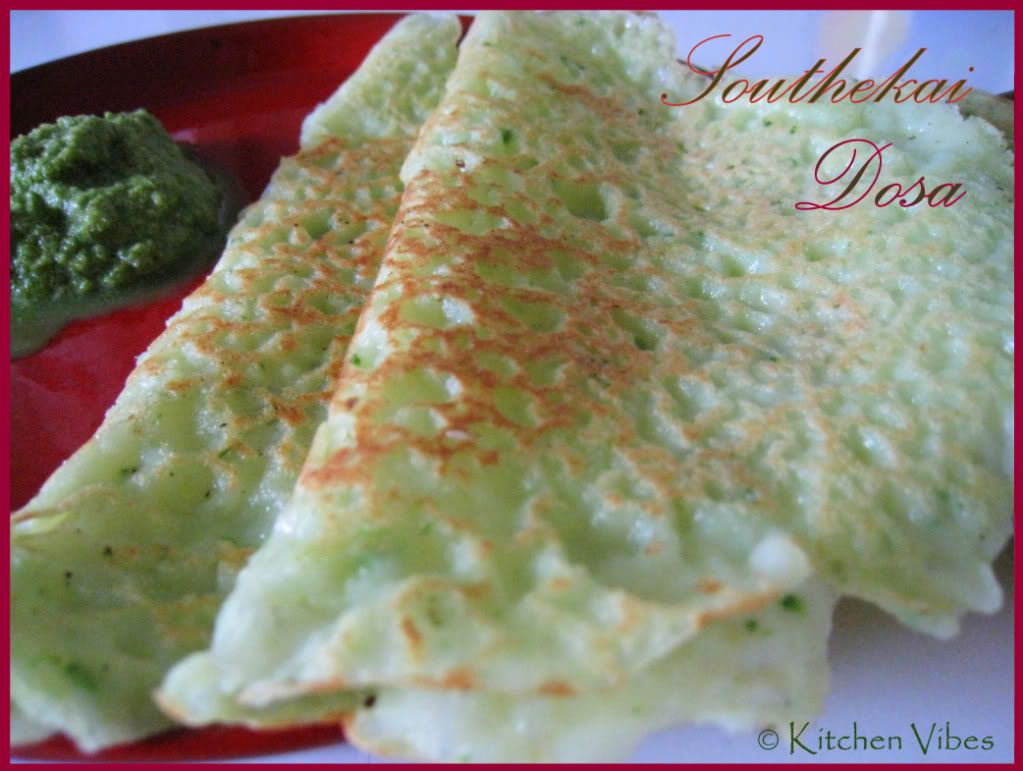 Time Required: 30 mins
Yields: around 15 dosas

Variation: Jaggery can be added to the dosa batter to make a sweet form of dosa. Although I haven't tried it so far, I heard that it tends to stick more to the pan, if not using a non-stick pan.
Posted by

LifenSpice
at 9:30 PM


Liked this Post? Share it!