Saturday, March 14, 2009
Lobhia curry is a popular north-Indian dish, where the soaked and cooked black-eyed beans are boiled in a tangy tomato gravy, with the right blend of spices. This is one very easy-to-make dish, tasty and packed with the nutrition that comes with these Legumes.

Black eyed beans are also called Cowpeas, Rongi/Lobhia, Alasande (Kannada), Chavalya/Chawli (Marathi), karamani (tamil) etc,. I make this dish very often and had taken these pics quite sometime back. Well, they were sitting in my drafts and waiting for the 'publish' button to be clicked. It has been very difficult to squeeze in any time these days. I am left admiring all the bloggers and their energies to cook,click and post them so promptly. I do hope to catch up soon:)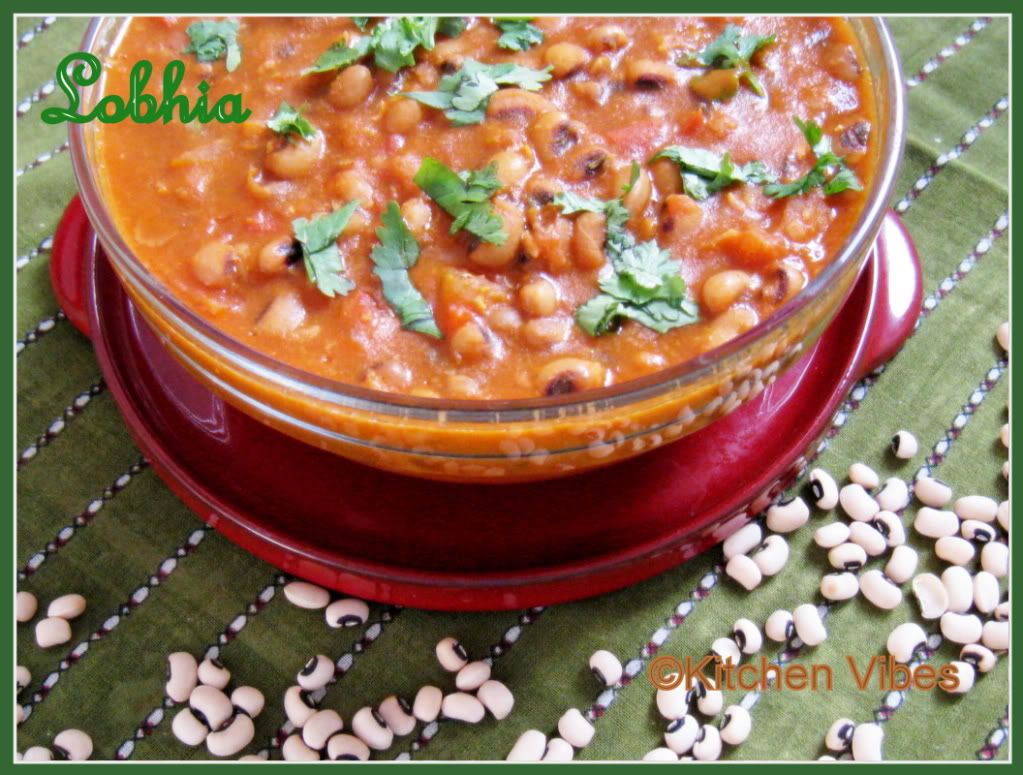 Lobhia
This is my entry for the lovely event 'My legume love affair' hosted by Laurie of Mediterranean Cooking in Alaska, an event started by Susan of The Well-Seasoned Cook.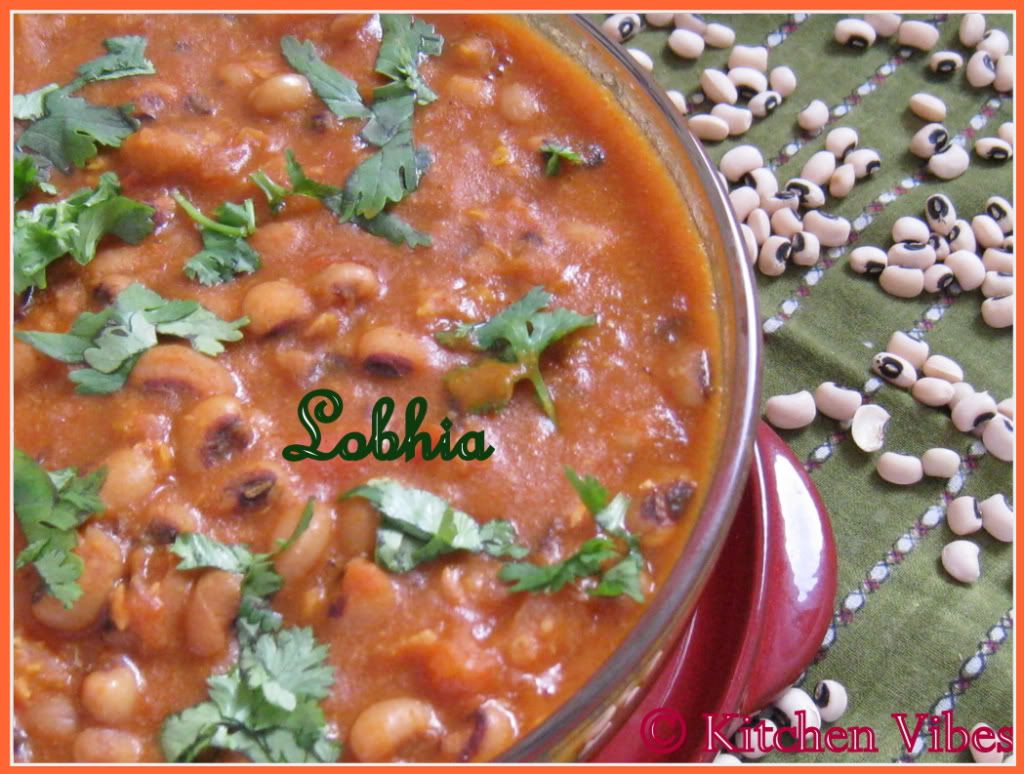 Lobhia
Ingredients:

1 cup black eyed beans
1 big onion chopped finely
1 green chilly slit lengthwise
3 big tomatoes chopped into small pieces
1/2 tsp ginger-garlic paste
1/4 tsp cumin seeds
1/4 tsp turmeric powder
1/2 tsp coriander powder
1/4 tsp red chilli powder (adjust according to taste)
1/2 tbsp Oil (any cooking oil or olive oil)
Salt to taste
Coriander leaves for garnishing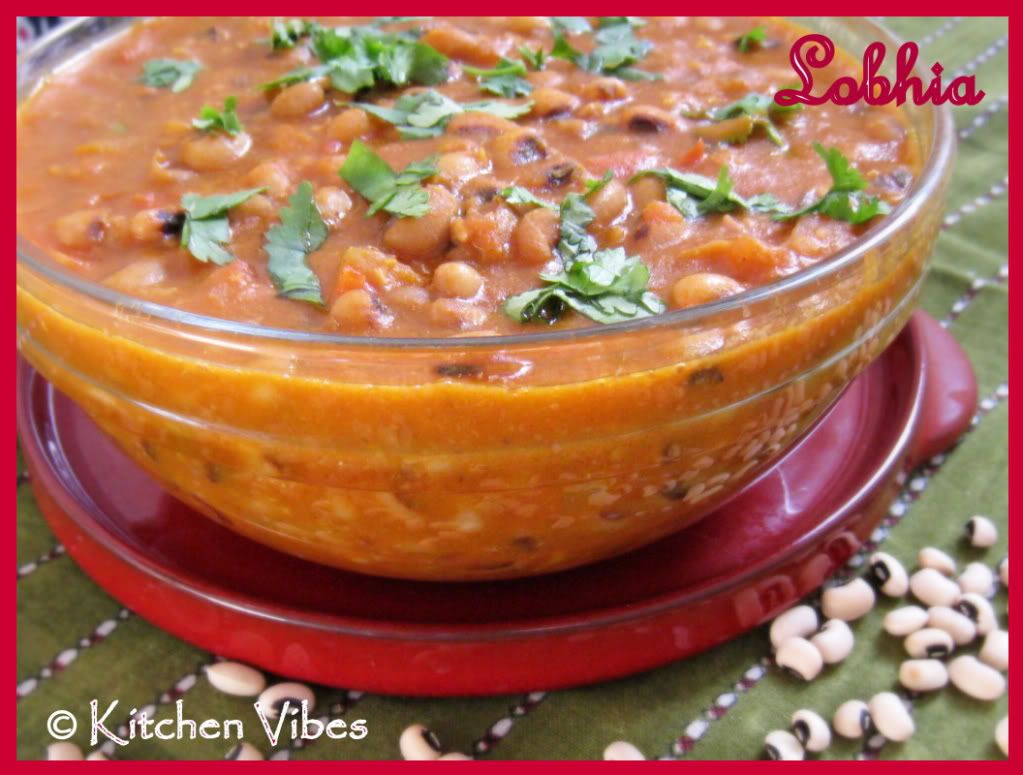 Lobhia
Recipe:

Soak the black eyed beans in water overnight. Boil the soaked beans in enough water till soft.(If using a pressure cooker, cook for 3 whistles with 2 cups of water. If boiling in a pan, it will take around 45 mins on medium heat with about 4 cups of water)
Heat oil in a pan, add cumin seeds. When cumin seeds begin sizzling, add chopped onion and saute till slightly browned.
To this, add in the green chillies and ginger-garlic paste and saute for a min.
Now, add in the coriander powder, turmeric powder and saute for another minute.
At this point, add the tomato pieces, mix well and cook covered till the tomato becomes pulpy.
Add in the cooked beans along with the water used for cooking, red chilli powder and salt to taste. Add enough water to get the consistency of the gravy.
Simmer for another 2-3 mins, till all the spices blend well. (You can mash a few beans if you want a thick texture to the gravy)
Garnish with finely chopped fresh coriander leaves and serve hot with rice or roti.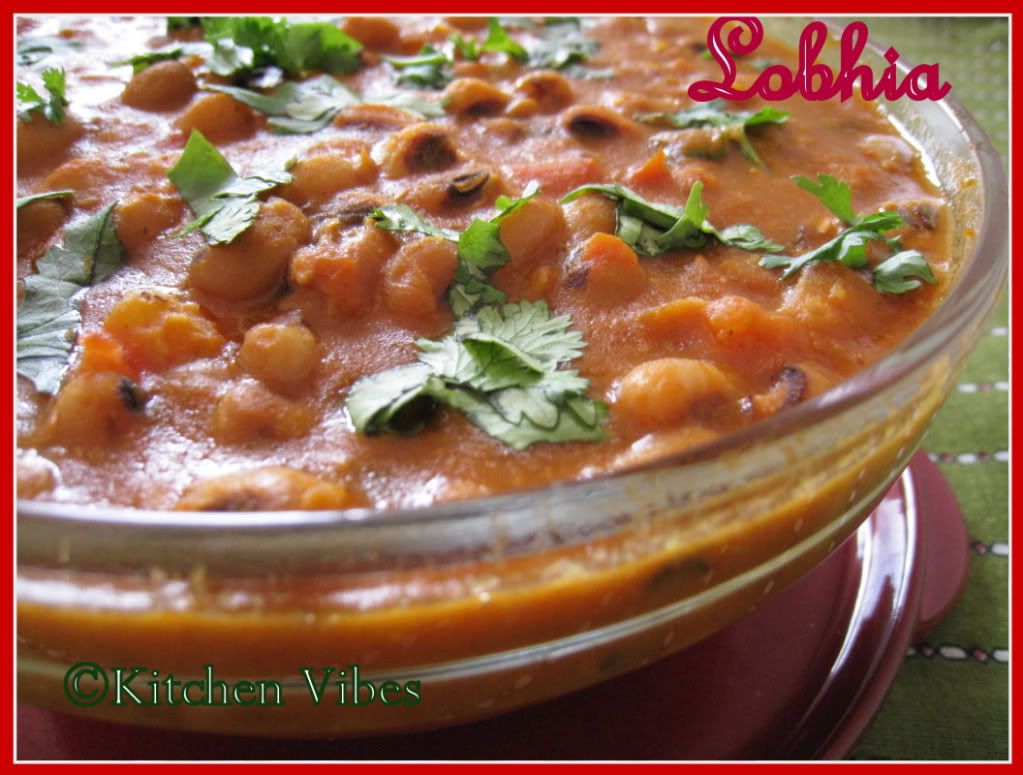 Lobhia curry
Preparation time (includes boiling time): 30-45 mins
Cooking time: 20 mins
Serves: 4-5 (if using as a side dish)
Posted by

LifenSpice
at 9:06 PM


Liked this Post? Share it!